HARMONY WITH GOD. (ATONEMENT).
"Do not become unevenly yoked with unbelievers. For what fellowship do righteousness and lawlessness have? Or what sharing does light have with darkness? Further, what harmony is there between Christ and Belial (satan)? Or what portion does a faithful person have with an unbeliever?... 'Therefore get out from among them, and separate yourselves,' says Jehovah, 'and quit touching the unclean thing; and I will take you in. And I shall be a Father to you, and you will be sons and daughters to Me,' says Jehovah the Almighty." (From 2 Cor 6:14-18).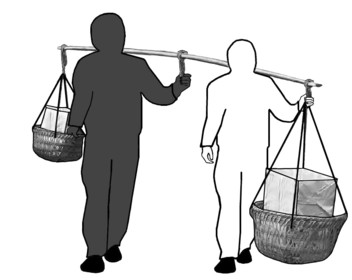 BEING YOKED WITH UNBELIEVERS IS "TOUCHING THE UNCLEAN THING".
An unbeliever is a person who after hearing counsel from the Word of God chooses to reject it and ignore further counsel from it in their lives. In time, the sharing of an uneven load with such an unbeliever could, by the burden of it upon one's spirit, tire out the believer, eventually leading one to carry the entire unclean load oneself made evident when the now former believer returns to a spiritually unclean life from the standpoint of God. (See Matt 12:43 45) (See Page 18/1/89).
An unbeliever is not one who is completely ignorant of the fine and acceptable Will of God for him. (Rom 12:2). He is one who was given sufficient counsel from God, understood it, but dismissed it as of no account; preferring to involve himself in spiritually unclean things in his life. He does not progress any further in the day of "small things". (Zech 4:10).
There are many spiritually unclean things from which one must be cleansed before Almighty God receives one as a son. (Heb 12:5-11). Many people suffer in their spirit and conscience because of this very thing: They are not at peace with God. (Phil 4:6,7 NEB). In their daily lives they are not free, nor are they at peace within themselves. Because they lack faith in God, they are not in harmony with Him. (John 3:20,21).
And if a man lives all his life to its end without having been made a son of God, he has suffered his whole life for absolutely nothing. How sad. (Eccles 2:26).
10/2/89.