(Cont. from Page 14/1/85B).
The following words have been copied from the sign at Meah Shearim.
Some of its content is offensive according to the Word of God. (1 Cor 11:7*).
See Pages 788, 789, 807, 808 of The Opened "Little Scroll" on headcoverings.
DEAR VISITOR. YOU ARE QUITE WELCOME TO MEAH SHEARIM BUT PLEASE DO NOT ANTAGONIZE OUR RELIGIOUS INHABITANTS BY STROLLING THROUGH OUR STREETS IN IMMODEST CLOTHING. OUR TORAH REQUIRES THE JEWISH WOMAN TO BE ATTIRED IN MODEST DRESS. MODEST DRESS. DRESS SLEEVES REACHING UNTIL BELOW THE ELBOWS. (SLACKS FORBIDDEN). STOCKINGS. MARRIED WOMEN HAVING THEIR HAIR COVERED, ETC. ARE THE VIRTUES OF THE JEWISH WOMAN THROUGH THE AGES. PLEASE DO NOT OFFEND OUR RESIDENTS AND CAUSE YOURSELF ANY UNNECESSARY INCONVENIENCE. WE BEG YOU NOT TO INFRINGE UPON OUR WAY OF LIFE AND 'HOLY CODE OF LAW'. WE BESEECH YOU TO USE DISCRETION BY NOT TRESPASSING OUR STREETS IN AN UNDESIRED FASHION. THE MEN ARE REQUESTED NOT TO ENTER BARE HEADED.*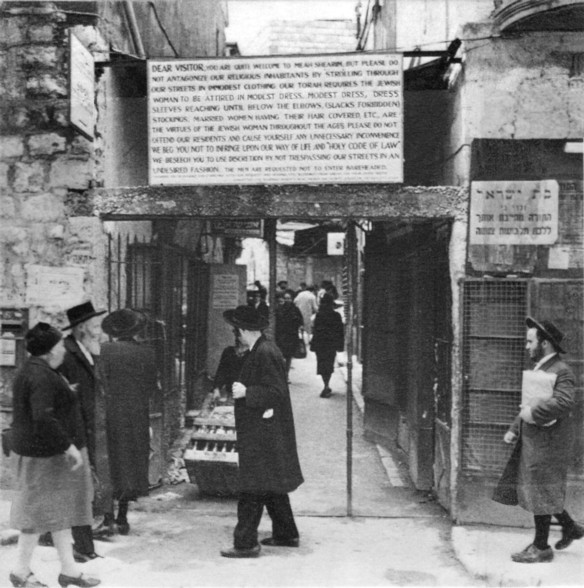 15/1/85.