"THE GOBLET, MY CUP OF RAGE". (Isaiah 51:22).
"Rouse yourself, rouse yourself, rise up, O Jerusalem, you who have drunk at the hand of Jehovah His cup of rage. The goblet, the cup causing reeling, you have drunk, you have drained out." (51:17).
"THESE DAYS RECALL FOR ME THE DAYS OF NOAH". (54:9 NEB).
"The goblet, My cup of rage you will not repeat the drinking of it anymore." "I will give it instead to your tormentors and oppressors…" (51:22,23 NWT & NEB). "These days" that recall for Jehovah the days of Noah (His promise never again to flood the earth with water) is His promise to faithful anointed sons of Zion that He will never again become indignant toward them or rebuke them. (54:9). What does this mean? That it was by the Spirit of His wrath that the denunciations of the "Little Scroll" were compiled. (Rev 10:8-11). We are watching for the time appointed by Jehovah for the ending of His wrath, as promised through anointed members of the heavenly "woman" (54:9,10 & 51:21,22), as He puts the Spirit of His wrath into the hands of those tormenting and oppressing us. (51:23 NEB). I, as an anointed member of the heavenly "woman" of God, have been used to declare knowledge of the wrath of Jehovah "the One that is speaking". It is not only what offends Him that we wish brought to an end, but also His appointed wrath, that "something better" may then be published: "Your God has become King!" (52:6,7).
"MY NAME WAS BEING TREATED WITH DISRESPECT". (52:5).
As soon as knowledge of their disrespect for Jehovah's Name was revealed to them, apostates occupying the spiritual "land" of Zion* sold His faithful anointed sons into worldly "Egypt" for nothing. (52:4). But from these "devastated places" they will be repurchased. (52:3&9). The extent of this disrespect for His Name is clearly revealed by the testimony of the "Little Scroll" by Spirit. "But on that day My people shall know My Name; they shall know that it is I who speak; here I am." (52:6 NEB). Amen, Father.
WITH HIS "SIGNAL" (49:22) NEWS OF "SOMETHING BETTER" (52:7).
With His Signal Jehovah shall bare "His holy arm before the eyes of all the nations" (52:10), which with reference to Egypt, Ethiopia, Lebanon, the "contemptible creature" and the "disgusting thing" have until now been "as a thief". (Rev 16:15. 1 Thess 5:2,3). Although enemies of God now proclaim "Peace and Security!" the figurative baring of His holy arm will remove these "haughtily exultant ones" and free His people. (Zeph 3:11 13). With our own eyes we shall see the Lord returning in pity to Zion. (52:8 NEB). "Something better" is the news of our salvation. (52:7 NEB & NWT).
"In Zion* sinners quake with terror, the Godless are seized with trembling and ask, Can any of us live with a devouring fire? Can any live in endless burning?" (33:14 NEB).
"The goblet, My cup of rage" put by Jehovah into the hand of those
tormenting and oppressing His people (Isaiah 51:21-23 NWT & NEB):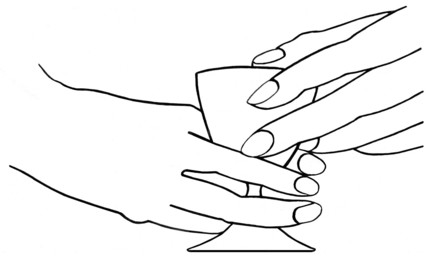 19/8/85.