(3) The second angel blew his trumpet; and what looked like a great blazing mountain was hurled into the sea. A third of the sea was turned to blood, a third of the living creatures in it died, and a third of the ships on it foundered." (Revelation 8:8,9 NEB).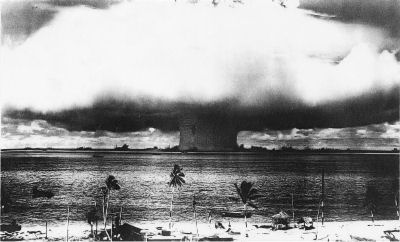 In 1946 extensive tests of the Atom Bomb were carried out by U.S. forces at Bikini Atoll, in the Pacific. On July 1 a bomb was exploded at a height of 1,000 to 1,500 feet above the assembled test fleet of 75 warships, and on July 25 a bomb was exploded under water. The photograph shows the huge waterspout that followed, crowned with the characteristic cloud. The dark patch on the right of the waterspout marks the position of the battleship Arkansas, which was sunk by the blast.
(4) Death by daring, 1986: the explosion of the space shuttle Challenger killed seven people and reminded the world that space travel remains perilous.
.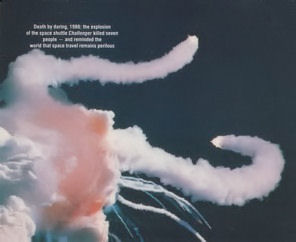 "And I saw another wild beast ascending out of the earth, and it had two horns like a lamb, but it began speaking as a dragon. And it exercises all the authority of the first wild beast in its sight. And it makes the earth and those who dwell in it worship the first wild beast, whose death-stroke got healed. And it performs great signs, so that it should even make fire come down out of heaven to the earth in the sight of mankind." (Revelation 13:11-13).
18/1/94B.