.
"AND THEIR CORPSES WILL BE ON THE BROAD WAY
OF THE GREAT CITY WHICH IS IN A SPIRITUAL SENSE
CALLED SODOM AND EGYPT". (Revelation 11:8 NWT).
When apostate members of the composite "man of lawlessness" of the sect falsely calling themselves Jehovah's Witnesses (1) usurped the God-given authority of faithful anointed* sons of God in The Christ's congregations during the "appointed times" (2) by 'shifting' their responsibilities from them and excommunicating them, they believed that this would not only remove Holy Spirit (3) that was acting as a "restraint" (4) to their apostasy, but would spiritually "kill" anointed ones. (5) By ostracizing and excommunicating them, the apostates thought to end their* faith and God-given work, leaving them* to the machinations of satan through evil sodomites and worldly people of this "darkness" symbolically described as "Sodom and Egypt". (6) They sought to make anointed ones spiritually inactive in the spiritual "land" of God. That is why they did not let their "corpses" be laid in a tomb, leaving them to be spiritually "killed". (7)
This once mysterious apostate "man of lawlessness" was now revealed, using the 1,260 days of the 2,300 "evenings and mornings" to "trample" on anointed brothers of The Christ who had the "constant feature" (Holy Spirit (8)) usurping and removing them.
Between January 1979 and July 1982 faithful anointed ones were in a "wilderness" condition away from apostate influences, to be taught by the Spirit of God. (9)
After the second 1,260 day period had expired, Spirit of life from God entered into faithful anointed ones, proving they had not spiritually died, and great fear fell upon those who realized this, for they* had been told to "Come on up here." (10) Much more spiritual instruction was received from the Lord by Spirit and recorded in the now Opened "Little Scroll" (11) These events are in fulfilment of Revelation 11:1-12 and the scriptures of Daniel described in the diagram below.
17/8/03.
THE "APPOINTED TIMES".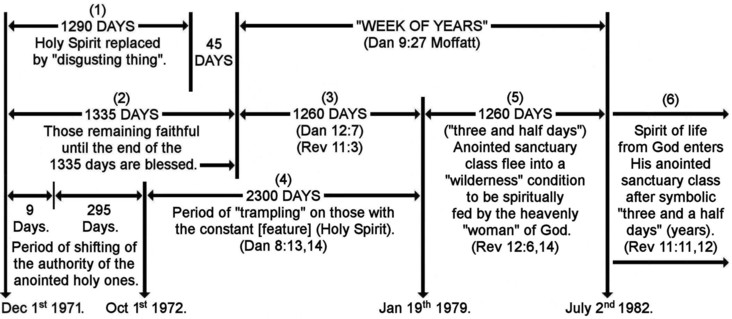 ---
SOURCES.

(1)
2 Thess 2:1-12 NWT.
(2)
Dan 12:7

.

Rev 11:1,2 NWT.
(3)
1 John 2:27.
(4)
2 Thess 2:7.
(5)
Rev 11:7.
(6)
Eph 6:11,12

.

Rev 11:8.
(7)
Rev 11:9.
(8)
Dan 8:13,14.
(9)
Rev 12:6.
(10)
Rev 11:11,12 NWT.

(11)
Rev 10:8-11.

---
The following extracts from the 1975 Yearbook of those falsely calling themselves Jehovah's Witnesses that claim to be 'God's doing' are the "Lie" of 2 Thessalonians 2:11. Publication of the following articles revealed their shifting of responsibilities from faithful anointed ones, leading to their eventual excommunication.
CHOOSING ELDERS AND MINISTERIAL SERVANTS.
The governing body of Jehovah's witnesses sent each congregation an instructive letter about selecting the "body of elders" as well as ministerial servants. According to that letter of December 1, 1971, all baptized men of the congregation twenty years old and upward were considered. (See Ezra 3:8). (1975 Yearbook of the sect of Jehovah's Witnesses. Pg. 248).
"THIS IS GOD'S DOING."
Reflecting on the (new) congregational arrangement providing for elders and ministerial servants, Roger Morgan was moved to say: "This is God's doing." Doubtless others will agree, since they may have considered the resulting benefits. The first shifting of responsibilities began in September 1972, and by October 1 the arrangement of things in most congregations had been adjusted. (1975 Yearbook of the sect of Jehovah's Witnesses. Pg. 250).
.