.
"RAUCOUS SHOUTS" FROM GOD TO
THOSE "NOT WILLING TO HEAR".
(AN EXEGESIS OF ISAIAH 28:10-14 NEB & NWT).
The "command upon command" referred to are the commands of God. They are the "measuring line upon measuring line" raised up to expose the lies and apostasy behind which those who set themselves up as "rulers" in spiritual "Jerusalem" take refuge. (28:10 & 14). They are those to whom Jehovah once said: ""This is the resting place. Give rest to the weary one. And this is the place of ease," but who were not willing to hear." (28:12). Jehovah is addressing all sectarian misleaders throughout the world. Such liars are outside the spiritual boundaries of the house of God and will certainly "stumble backwards and actually be broken and ensnared and caught." (28:13).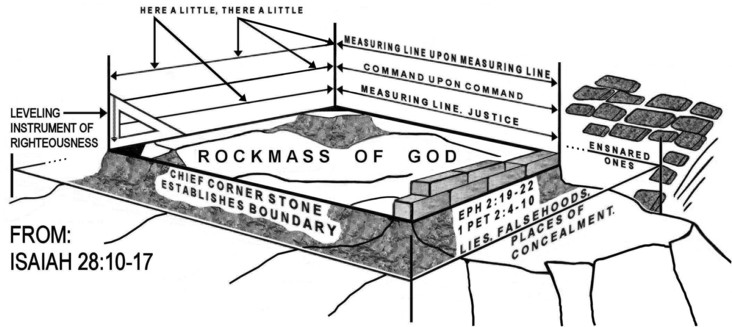 "BY THOSE STAMMERING" AND "BY A DIFFERENT TONGUE".
Because these "rulers" disobey the very Spirit of God through His Christ and His spiritual "altar" class of anointed sons, Jehovah will now speak by a "different tongue", one of "harsh cries and raucous shouts" through the writings of the "Little Scroll". (28:10-13 NEB & NWT). But for what purpose has this figurative "stammering" of repeated spiritual disclosures been written as though with "barbarous speech and strange tongue"? (28:11 NEB). "In order that they may go and certainly stumble backwards and actually be broken and ensnared and caught." (28:13. See illustration). The "stammering" referred to is the repetition of spiritual instructions from God that previously people were not willing to hear or obey. The bitterness of these writings is with reference to "peoples and nations and tongues and many kings" and is repeated often throughout the "Little Scroll". (Rev 10:11). Yes, in the spirits of disobedient ones these instructions may sound harsh, as the Spirit of the anger of God sweeps away their refuge of lies. (28:17).
"BARBAROUS":

Of language unpolished; harsh-sounding, coarsely noisy. (28:11

NEB

).

"RAUCOUS":

Hoarse, harsh-sounding, rough. (28:10

NEB

).

"STAMMERING":

Involuntary repetition in speech. (28:11).
Receiving commands by the Spirit of God in words that are harsh and raucous is certainly a "different tongue". The "Little Scroll" may seem alien to those who take refuge in falsehood, but it has a specific purpose: To ensnare apostates by the Spirit of the Lord's Judgement.
NOW READ ISAIAH 33:14.
2/4/88.

---
JEHOVAH WILL NOW SPEAK TO YOU PEOPLE
"BY THOSE STAMMERING WITH THEIR LIPS
AND BY A DIFFERENT TONGUE". (Isaiah 28:11).
"AND NOW DO NOT SHOW YOURSELVES SCOFFERS, IN ORDER THAT YOUR BANDS MAY NOT GROW STRONG, FOR THERE IS AN EXTERMINATION, EVEN SOMETHING DECIDED UPON, THAT I HAVE HEARD OF FROM THE SOVEREIGN LORD, JEHOVAH OF ARMIES, FOR ALL THE LAND." (Isaiah 28:22).
WHAT WAS HEARD SHALL BECOME THIS: "IN ZION THE SINNERS HAVE COME TO BE IN DREAD; SHIVERING HAS GRABBED HOLD OF THE APOSTATES: 'WHO OF [YOU] CAN RESIDE FOR ANY TIME WITH A DEVOURING FIRE? WHO OF [YOU] CAN RESIDE FOR ANY TIME WITH LONG-LASTING CONFLAGRATIONS?'" (Isaiah 33:14).
FOR JEHOVAH SAYS: "BECAUSE THIS PEOPLE APPROACH ME WITH THEIR MOUTHS AND HONOUR ME WITH THEIR LIPS WHILE THEIR HEARTS ARE FAR FROM ME, AND THEIR RELIGION IS BUT A PRECEPT OF MEN, LEARNT BY ROTE, THEREFORE I WILL YET AGAIN SHOCK THIS PEOPLE, ADDING SHOCK TO SHOCK…" (Isaiah 29:13,14
NEB
)
.
THE SPIRIT "FIRE" OF THE LORD'S JUDGEMENT WILL "BURN" RELENTLESSLY WITHIN THE SPIRITS OF APOSTATES FOR THEIR WILFUL WARRING AGAINST SPIRIT ANOINTED SONS OF HIS ALTAR AR'I.EL. (Isaiah 29:1-8
NEB
)
.
TO THOSE EXPERIENCING THE DEVOURING "FIRE" IT IS WRITTEN:
"For any man at all from the house of Israel or from the alien residents that reside as aliens in Israel, that withdraws himself from following Me and that brings up his dungy idols upon his heart and that sets the very stumbling block causing his error in front of his face and that actually comes to the prophet to make inquiry for himself by Me, I, Jehovah, I am letting myself be brought to answer him by Myself. And I must set My face against that man and place him for a sign and for proverbial sayings, and I must cut him off from the midst of My people; and you people will have to know that I am Jehovah." (Ezekiel 14:7,8).
"DUNGY IDOLS" ARE HUMANS ADMIRED AND WORSHIPPED BY OTHERS.
8/4/88.

---
THE SPIRIT "FLOOD" THAT PASSES THROUGH,
"TRAMPLING" THE SPIRITS OF CERTAIN MEN.
The moment of natural death for anointed sons of God today is being dissolved, so that: "The overflowing flash flood, when it passes through you must also become for it a trampling place. As often as it passes through (see (1) and (2) below), it will take you men away, because morning by morning it will pass through, during the day and during the night; and it must become nothing but a reason for quaking to make others understand what has been heard." (Isaiah 28:18,19 NWT).
On waking from each of these deathlike experiences that are "a reason for quaking", it rarely follows that anointed ones are immediately aware of further spiritual knowledge having been imputed to them but a feeling of dismay and failure is certainly felt. It is only after some hours have passed that they are inspired by God to explain the meaning of particular scriptures to expose the "spirit of uncleanness" of apostates occupying the spiritual "land" of God. (Zech 13:2). When this has been done, the feelings of dismay recede, until the next deathlike experience of "trampling" occurs.
The important scripture to bear in mind is Isaiah 28:9 which states: "Whom will one instruct in knowledge, and whom will one make understand what has been heard? Those who have been weaned from the milk, those moved away from the breasts?" (NWT). The answer to the second question is: No. For it is faithful anointed sons of God that are instructed by the Spirit of the Lord. The "Little Scroll" contains most of the spiritual "measuring lines" that have been revealed.
"Zion" is the spiritual "land" of God under Spirit development. (Isaiah 28:16).
(1) The purpose of each "overflowing flash flood" (natural death dissolved) is so that spiritual teachings from God are made known and obeyed teachings that were not previously known or understood or obeyed. After Spirit knowledge from God is made known, those who continue in defiance of it are cut off from the life-giving spiritual "land" of God. (Isaiah 28:18 & 22 NWT).
(2) "The very thought of such tidings will bring nothing but dismay". (28:19 NEB).
Those living in accordance with the false teachings of sectarian religions are not obeying the expressed Will of God. They are being "ensnared and caught" as those found living outside the spiritual boundaries of God. Those obeying the spiritual instructions of The Opened "Little Scroll" of Revelation 10:1-11 shall be saved.
20/6/04.

---
For further information click on: Raucous Shouts (2)
.