(Cont. from Page 27/10/86).

"AND THE WILD BEAST WAS CAUGHT...
WHILE STILL ALIVE". (Revelation 19:20).
BY DE-REGULATION AND LAISSEZ-FAIRE* PRINCIPLES?
With reference to Page 27/10/86 concerning the origin of instituted merchant gilds whose trading practices and boundaries were regulated by their boroughs: As a result of economic decline among trading nations, we have witnessed the de-regulation of the trading practices of those who "buy" and "sell". (Rev 13:17). Before de regulation, politicians were the policy-makers who regulated stock market trading and kept control over commerce and banking. But "the one seated on the horse and with his army" will bring about their international recession and death. (19:19 21. 16:10,11).
Economic recession and mass unemployment are forcing policy-makers to create workfare schemes whereby employers are offered financial incentives paid out of public funds to continue "driving others to work". (Isaiah 14:4). Founder members, sponsors, and all those who work physically ("hand") or intellectually ("forehead") for the "image of the wild beast" and receive its "mark", are worshippers of the "dragon" satan who has given his power, throne and great authority to the "wild beast". (13:15,16. 13:2-4).
Deprivation of the masses by the excesses of capitalism and taxation is "still alive" and instituted by the privileged classes within politically extended and legally protected boundaries. These boundaries are enforced by the judicial system and law enforcement agencies such as the police and armed forces.
The "image of the wild beast" has the disposition of the "dragon" satan and is in opposition to the Will of God and to those who choose to be created in the "image" and "likeness" of Almighty God and His Son The Christ Michael. (Gen 1:26).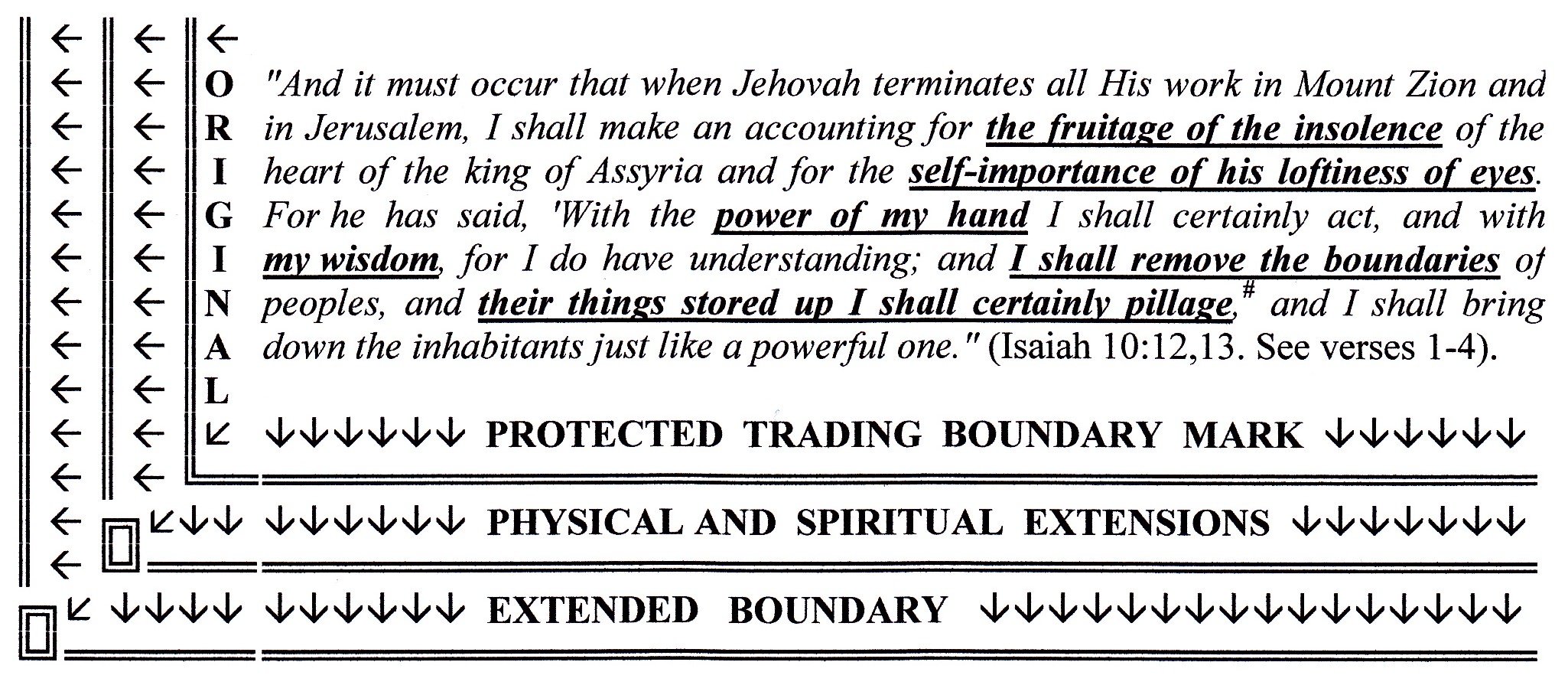 "Therefore the true Lord, Jehovah of armies, will keep sending upon his fat ones a wasting disease,
and under his glory a burning will keep burning away like the burning of a fire." (Isaiah 10:16).
LAISSEZ-FAIRE*:

Government abstention from interference with individual
action especially in commerce. (French: Let act).

PILLAGE#:

The act of plundering, carrying off goods or possessions by force.
30/10/86.