PROOF THAT JWs WORSHIP AT THE SAME PLACES
WHERE MEN WORSHIP HUMAN DUNGY IDOLS.
THE EXAMPLE OF THE HOLY MEETING PLACE OF GOD
AS COMPARED WITH THE UNGODLY EXAMPLE OF JWs:
The Holy meeting place of God was His Holy Tabernacle with its Holy requirements, which was erected where God designated. This Tabernacle was a representation of heavenly things. (Heb 9:23,24). So what do JWs think the aggression and violence of Godless unbelievers attending sports stadiums represents? The answer: satan the god of this world. And yet JWs attend such places to worship, and in so doing make sinfulness their deliberate choice. "Therefore God puts them under a delusion, which works upon them to believe the lie, so that they may all be brought to Judgement, all who do not believe the truth but make sinfulness their deliberate choice." (2 Thess 2:11,12 NEB).
JWs have been taught of the sanctity of God, but take greater pleasure in the variety offered by unrighteousness. (2:12). This is yet another example of the apostasy of JWs being revealed apostates whom the Lord Jesus will destroy by the manifestation of his presence. (2:8). The JW article shown below▼ includes photographs of two stadiums illustrated in the December 22nd 1986 issue of the 'Awake!' magazine and clearly shows the kinds of places large numbers of JWs go to worship. These stadiums are also places where opposing supporters show their hatred for each other by engaging in brawls, verbally abusing each other, painting their faces in tribal colours, stabbing chosen victims, and worshipping their dungy sports idols! But JWs boast that they use these same stadiums all over the world for their 'holy' conventions! This is an abomination!
The duplicitous words issued by the 'governing body' of JWs brush aside this satanic blasphemy, and interpret the compliments they receive from newspaper reporters and stadium authorities as justification for hiring these stadiums as their 'holy' meeting places. They boast in how they 'transform stadiums into havens of peace'. Demons promote idol worship at stadiums and are the reason why demonically inspired JW apostates use them. Ministering angels of The Christ Michael are never present at such gatherings.
"What agreement has the temple of God with idols? …Therefore come out from them, and be separate from them, says the Lord, and touch nothing unclean; then I will welcome you, and I will be a father to you, and you shall be My sons and daughters, says the Lord Almighty." (From 2 Cor 6:16-18 RSV).
JWs GO TO WORSHIP GOD WHERE MEN WORSHIP DEMONS.
Despite owning vast tracts of land and office complexes in many countries, the 'governing body' of the sect falsely calling themselves Jehovah's Witnesses directs its members to attend places where idol worship is practised, but supposedly to speak about the things of God! Those continuing to follow their apostate example are in a grave position before God for by their attendance they disown The Christ before the nations. (2 Peter 2:1 3). They are therefore lost souls. They have been given the opportunity to get out of spiritistic "Babylon" but have refused. (Rev 18:4). Now they are to perish. As their shameful conduct before God increases, so shall their anguish at the appearance of our Lord Michael. (Matt 24:29,30).
14/6/95.
---
▼ Page 22 of the December 22nd 1986 issue of the JW magazine Awake!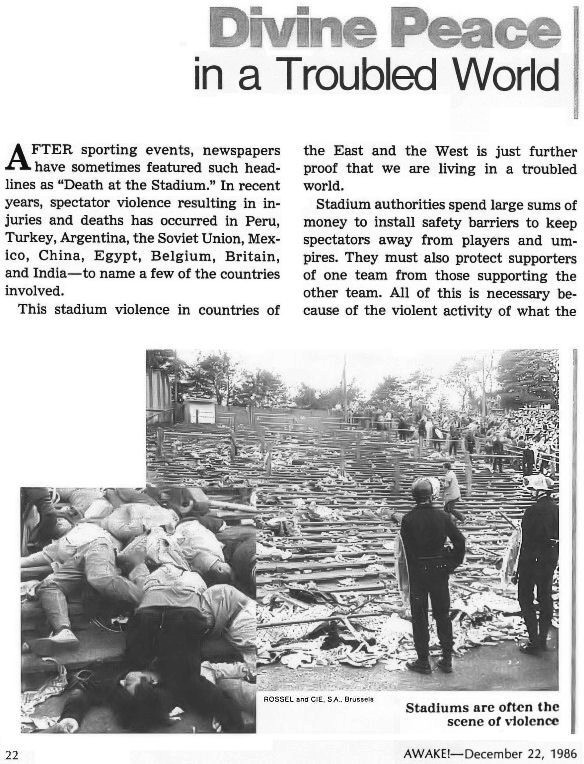 ---
▼ Page 23 of the December 22nd 1986 issue of the JW magazine Awake!