.

.











|►
|►
|►
|►
||
||
||
||
||
||
||
||
||
||
||
||
||
||
||
||
||
||
||
||
||
||
||
||
||
||
||
||
||
||
||
||
||
||
||
||
||
||
||
|►
|►
|►
|►
The Daily Telegraph. 29/5/81.
BURGLAR CONFESSED
'FOR RELIGIOUS REASONS'.
A Burglar admitted 98 offences in which he stole goods worth £187,000 after telling police he wanted to become a Jehovah's Witness and had to clear his conscience, it was said at the Old Bailey yesterday.
But Judge Argyle, QC, said it was the second time Donald Buxton, 33, had used this ploy as mitigation for burglaries.
Delaying sentence for three weeks he said he would welcome "some communication" from Jehovah's Witnesses …
---
The Daily Express. 28/4/81.
DEACON FONDLED GIRL, 14,
IN A CAR.
A CHURCH deacon fondling a 14‑year-old girl in his parked car looked up, saw a police car, and yelled: "Bloody hell it's the fuzz."
And in a desperate bid to escape, he drove off at 80 miles an hour, with the terrified girl still stuck on the reclining passenger seat.
The unmarked police car sped after him through the darkness. And the chase only came to an end when the deacon's car was stopped by a fallen boulder in Swansea Docks.
TEARS
The girl was in tears, and when police accused Vincent Evans, a 31-year-old Jehovah's Witness deacon, of assaulting her, he replied: "I would not do such a thing".
But later Evans, of Dylan Drive, Caerphilly, South Glamorgan, admitted indecently assaulting the girl because she had excited him…
---
COMMENT: The question that should be asked of judges who require some communication from JWs in court cases is: Why? For as the above cases prove, they are corrupt liars.
---
OUR LORD WILL BRING
HIS SECTARIAN ENEMIES
TO NOTHING BY THE
"SPIRIT OF HIS MOUTH".
(2 Thessalonians 2:8).
EXPELLING THEM "WITH HIS BLAST". (Isaiah 27:8).
"I looked up again and saw a flying scroll. He asked me what I saw, and I answered, 'A flying scroll, twenty cubits long and ten cubits wide.' This, he told me, is the curse which goes out over the whole land; for by the writing on one side every thief shall be swept clean away, and by the writing on the other every perjurer shall be swept clean away. I have sent it out, the LORD of Hosts has said, and it shall enter the house of the thief and the house of the man who has perjured himself in My Name; it shall stay inside that house and demolish it, timbers and stones and all." (Zechariah 5:1-4 NEB).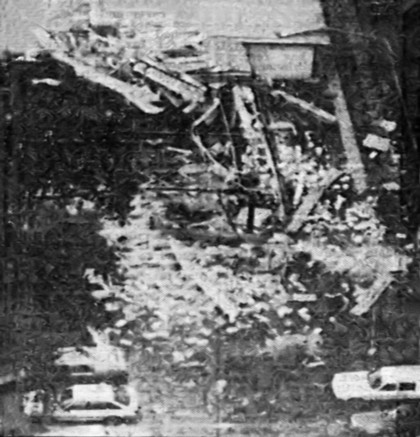 The Guardian. 22nd July 1985.
MAN KILLED IN BLAST AT SYDNEY SERVICE.
From Richard Yallop in Melbourne.
One man was killed and 70 people were taken to hospital after a bomb exploded yesterday during a Jehovah's Witnesses service in a Kingdom Hall in the Sydney suburb of Lurnea.

The explosion occurred close to the speaker's dais just as Mr David Winder, a visiting elder from the Sydney suburb of Prospect, had begun his address on loyalty to God and the family. Mr Winder, aged 39, was blown through the roof of the building, receiving multiple fractures and injuries.

Police did not release the name of the dead man, who was sitting in the front row. He is believed to be a father of three. His wife was also injured in the blast, but their three children escaped unhurt.

More than 100 people attended the service. The explosion destroyed half the building, and tore a hole in the aluminium roof.

Thirteen of the 70 people taken to hospital were still there last night and the condition of two adults and one three-month-old baby was said to be serious. Some of the injured refused blood transfusion because of their religious beliefs.

Police have no idea of the motive for the bombing, nor has any group claimed responsibility, but it is thought to have been caused by a former member of the congregation with a grudge.