"KNOWING HE HAS A SHORT PERIOD OF TIME." (Rev 12:12).
THE PERIOD OF THEIR JUDGEMENT HAS BEGUN!
(1)

The composite "false prophet" of Revelation 19:19,20 is engaged in the demonic work of gathering "peoples and crowds and nations" to war against The Christ. (Rev 16:13,14. 17:14,15).

(2)

The political "wild beast" will "eat up" the "fleshy parts" of sectarian religions. (17:16).

(3)

The "ten kings" (United Nations) receive authority as kings for "one (symbolic) hour with the "wild beast." (17:12).

(4)

"Harlot" "Babylon" the world empire of sectarian religions that has authority over "peoples and crowds and nations" is to be devastated by the "ten kings" and the "wild beast". (17:15,16).

"That is why in one day her plagues will come, death and mourning and famine, and she will be completely burned with (Spirit) fire, because Jehovah God, who judged her, is strong." (18:8).

"...in one hour your Judgement has arrived!" (18:10). (The "hour" and "day" are short periods).

(5)

The "false prophet" of Sport Aid has performed a "sign" before the leaders of the world to gather them and their nations for the war against Almighty God. Dungy pop idols of Band Aid have already gathered their worshippers to war against the sacrificing of Ethiopia by God. Sports idols are rousing nations to war against a judicial decision of God. (Rev 16:15,16. Isaiah 43:1-4).
"Lend your aid and come, all you nations round about, and collect yourselves together. To that place, O Jehovah, bring Your powerful ones down. Let the nations be aroused and come up to the low plain of Jehoshaphat; for there I shall sit in order to judge all the nations round about." (Joel 3:11,12).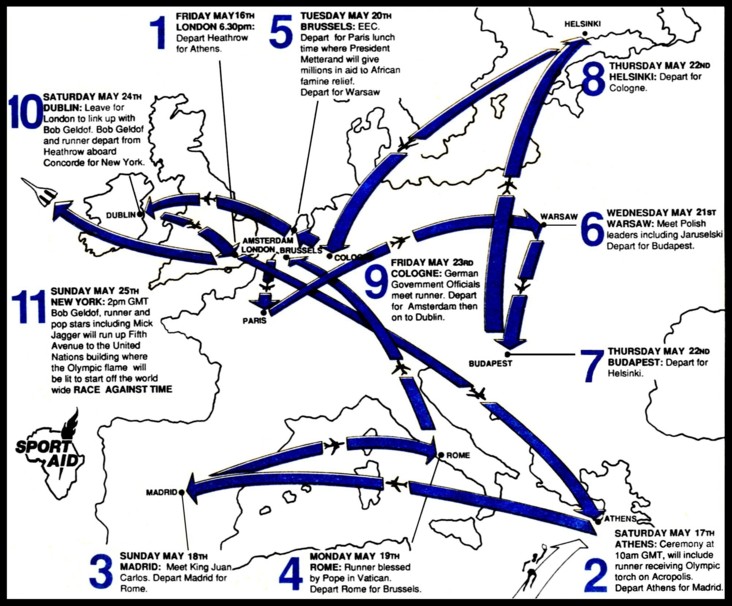 (Cont. on Page 30/5/86).
17/5/86.