(Cont. from Page 26/3/85).

OUR LORD WILL DO AWAY WITH LAWLESS ONES
BY THE SPIRIT OF HIS MOUTH. (2 Thess 2:8).
DEAD EXAMPLES OF JWs, AND OF BAPTISMS "ON THEIR BEHALF":
With reference to the "man of lawlessness" of the sect of JWs and their apostate teachings:

(1)

Those receiving baptism on behalf of members of the sect calling themselves Jehovah's Witnesses ("dead" ones) endorse the apostate teaching that those of the "great crowd" of "other sheep" who die may only be resurrected to life back on earth and are not destined for immortal heavenly life. (See Pages 871A & 871B).

(2)

After issuing instructions for the 'shifting of responsibilities' and the consequent removal of the "constant feature" (Spirit anointed sons of God), the "man of lawlessness" are now standing in the "holy place" themselves. (Dan 11:31. 2 Thess 2:3. Matt 24:15. See Page 841).

(3)

Contrary to the Lord's commandment, female JW members exercise authority over men inside and outside JW congregations preaching to and teaching men. (1 Tim 2:11,12. 1 Cor 14:33-37).

(4)

By proclaiming that the "appointed times" ended and the "Lord's day" began in 1914CE, JWs have in effect sent "a letter as though from us, to the effect that the day of Jehovah is here."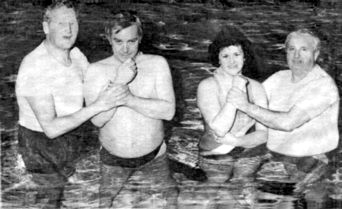 Being baptized on behalf of "dead" members of the sect of JWs.
(See 1 Corinthians 15:18-29 NEB).
"However, brothers, respecting the presence of our Lord Jesus Christ and our being gathered together to him, we request of you not to be quickly shaken from your reason nor to be excited either through an inspired expression or through a verbal message or through a letter as though from us, to the effect that the day of Jehovah is here.
Let no one seduce you in any manner, because it will not come unless the apostasy comes first and the man of lawlessness gets revealed, the son of destruction. He is set in opposition and lifts himself up over everyone who is called "god" or an object of reverence, so that he sits down in the temple of The God, publicly showing himself to be a god. Do you not remember that, while I was yet with you, I used to tell you these things?
And so now you know the thing that acts as a restraint, with a view to his being revealed in his own due time. True, the mystery of this lawlessness is already at work; but only till he who is right now acting as a restraint gets to be out of the way. Then, indeed, the lawless one will be revealed, whom the Lord Jesus will do away with by the Spirit of his mouth and bring to nothing by the manifestation of his presence. But the lawless one's presence is according to the operation of satan with every powerful work and lying signs and portents and with every unrighteous deception for those who are perishing, as a retribution because they did not accept the love of the truth that they might be saved. So that is why God lets an operation of error go to them, that they may get to believing the lie, in order that they all may be judged because they did not believe the truth but took pleasure in unrighteousness." (2 Thess 2:1-12).
28/3/85.