| | |
| --- | --- |
| (Cont. from Page 864C). | 864D. |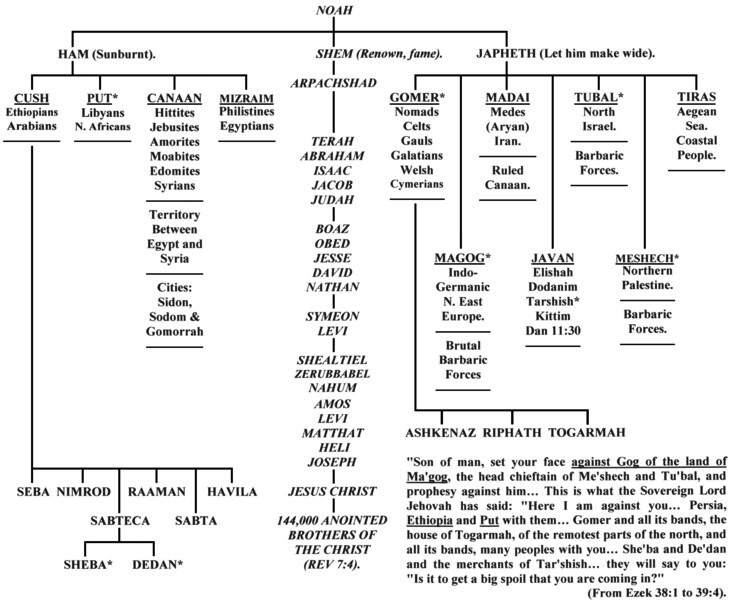 Ma'gog, Me'shech and Tu'bal are people within whom the head chieftain Gog (satan) has been most active among tribal and national groups of this world through many generations until today. They include warring natures descended from Persia, Ethiopia, Put, Gomer and all its bands, the house of Togar'mah and others. These have spread throughout the earth and war physically and spiritually against people of God. From such warring natures as these there has developed a congregation of Gog's people that have invaded Christ's congregation spiritually warring against the "seed" of God Jesus Christ and his Spirit anointed brothers, which Jehovah describes as His spiritual "land" "brought forth from the peoples". (Ezek 38:7,8).
The spiritual "land" of God first consists of 144,000 Spirit anointed sons who have gradually been gathered since Christ began his earthly ministry. That their number is complete was indicated by unsealed men of the nations occupying the "courtyard" outside the "temple sanctuary" and so not being "measured" in. These unsealed ones are guilty of the 'shifting of responsibilities' from faithful anointed sons of God and "trampling" upon these "sanctuary" members for 42 months. (Rev 11:1-3) (For evidence of this see the 1975 JW Yearbook. Pg. 250). As the "sanctuary" only exists among Spirit anointed sons of God on earth (Eph 2:19 22), those who "trampled" upon them did so to stand in authority in their "holy place" themselves. (Matt 24:15. Dan 11:31. Rev 17:5). This is the "disgusting thing that is causing desolation."
You who are of spiritual "Judea" must now flee!
21/12/79.